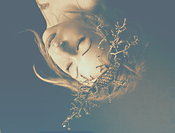 elvira bukowski

Person

Skills

photography, camera, cinematography, costume design, DIY anything

Website
From: 27 Aug 19:00 | To: 28 Aug 01:00
Location:Wedding

Our mission has been to gather as many artists as possible and put them together, without any conceptual clue as to what we are doing and why. This means that you get ...

From: 20 Aug 21:00 | To: 20 Aug 23:00
Location:Berlin

We are very excited about this line-up of skilled hands for you… Have you ever been massaged by the resonance of twelve burning cymbals? The evening will commen...