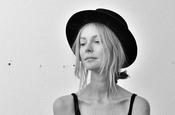 Millicent

Person

Tagline

Designer slash blogger slash model slash general slashy...

Skills

Designer slash blogger slash model slash general slashy...

About

I design. Fashion and Jewellery. But mainly jewellery at the moment.
I write. For a blog called 'mies in berlin'. About fashion. Or jewellery. Or anything else that takes my fancy.
And for an online magazine called Querbinder.
Sometimes i model. If somebody asks. Or pays me.
I draw. Fashion illustrations mainly. But a lot of other pass times get in the way.
I have been known to style. Or do makeup. Or take very unprofessional photos when someone lends me a camera.
I go for coffee. A lot. I like coffee.
I also probably spend too much time on facebook.

Website
From: 13 Nov 18:00 | To: 13 Nov 21:00
Location:Mitte

Berlin is a creative melting pot. Artistic minds of the world come together to bubble. Celebrating this unique creative scene, a selection of international but Berlin ...

From: 23 Nov 19:00 | To: 23 Nov 22:00
Location:Neukölln

In preparation for the holiday season, Mies Nobis is hosting Baubles and Bubbles, a special event at Nadelwald Co-Sewing Space on Friday, November 23 from 7-9pm. Come ...

From: 27 Apr 19:00 | To: 27 Apr 22:00
Location:Mitte

On Friday 27th at Berlin's new Marquee Bar in mitte (directly at U8 Bernauerstr) I'm having a little exhibition of a collection of laser cut brass, wood &a...