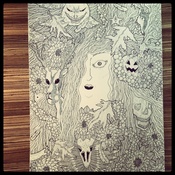 Christian

Person

Tagline

drawing everything together what i throw in my mind together!

Skills

mostly i draw just with ink on paper, or sometimes i do "cover ups" on old pics from other people to give them a new and different style.

About

i am just an drawer who loves it to draw the whole day bu never had any art education. when i have free time besides my job i try to develop my drawing skills so i could reach my big heroes like alex pardee, richey beckett or ian mcarthur.

so if you like my stuff just hit me up. maybe we can exchange?