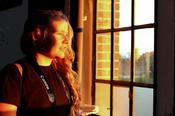 EmmCollins

Person

Tagline

I'm an online arts/media producer with marketing, design, project management and website building experience.

Skills

web design, Social Media, Print, internet, online, festivals, marketing campaigns, photography, music, singer, ableton, website build

About

I have worked in the online arts scene for several years, usually with arts and music festivals and organisations. I am Australian but have been living in Berlin since mid-2011. My main experience is in the online realm - working on marketing campaigns for festivals, managing website content and social media strategies. I also work as a creative project producer for arts organisations. I build websites and do basic web and print design on the side.